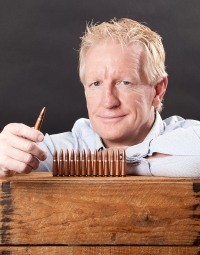 Topics
After Dinner
Change Management
Goal Setting
Inspirational
Leadership
Motivational
Overcoming Adversity
Performance
Resilience
Risk Management
Team Building
Top Speakers
Workshops
Durability of Human Performance is the ability to sustain Optimum Performance under pressure. Optimum is not peak performance and it is not perfection. Optimum is the very best you can possibly do in the current circumstances.
We all intuitively know that continually maintaining peak performance or sustaining perfection is almost impossible. Circumstances change, markets change, clients change. However, wouldn't you like your staff, or yourself, to be able to sustain Optimum Performance under pressure? Sustain the very best they can possibly do!
Resilience is the current buzzword for managing personal and business challenges. Resilience is known as the ability to 'bounce back' after failure. Resilience is a life skill we have all wanted to provide for our children, our staff, our students or our businesses.
Durability supersedes resilience.
Derrick McManus has developed a simple yet powerful process for 'Durability of Human Performance'. Durability thinking is the cutting edge of development in positive psychology. The University of South Australia, School of Psychology, is currently working with Derrick to further research and develop the Durability process.
Derrick draws on his inspirational history as a former sniper, diver and counter-terrorist operative with the elite SA Police Special Tasks and Rescue (STAR) Group. In a high-risk arrest he was shot 14 times with a high-powered rifle in less than 5 seconds. He was lying on the ground for 3 hours before he could be rescued. The first doctor to reach him thought he was already dead and later said, "I actually don't know how he survived, he's an incredible human being."
This story is pure inspiration in it's own right. Derrick regularly speaks at conferences all around Australia and overseas. This story is also a very real and very powerful metaphor for Durability of Human Performance.
Derrick is sensational for opening a conference and inspiring people to believe in their own ability. Derrick is awesome for closing a conference and bringing all the information powerfully together. Derrick is also brilliant for a mid-conference Durability workshop or break-out session where people get a true insight into developing their own Durability of Human Performance.
The true strength in Derrick's work is delivering Durability of Human Performance workshops or break-out sessions at your conference after his keynote OR delivering full and half-day workshops in your workplace at any time.
Keynote Titles
Durability of Human Performance | Sustaining Optimum Performance Under Pressure
Never Say Die
7 Pillars of Tactical Leadership
The Magic of Thinking BIG
14 Bullets Couldn't Stop Me - What's Stopping You?