Johnny Ruffo
Travels From Sydney, NSW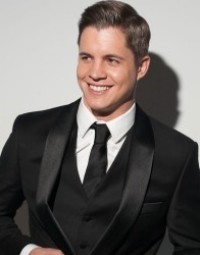 Topics
Band
Corporate Entertainment
Entertainment
Master Of Ceremonies
Media
Music
With a working background as a concreter, Johnny Ruffo has successfully managed to switch trades over the last year to now cement a solid foundation as one of Australia's brightest and charismatic new pop sensations. From Balcatta in Western Australia, the talented young performer quickly emerged to become a finalist on the X-Factor, winning audiences with his pop/R&B style, smooth dance moves, good-looks, and magnetic performances.

He's performed onstage with international hip hop superstars Salt 'N Pepa, Guy Sebastian and Reece Mastin, and was even hand-selected to support global pop sensations One Direction on their record-breaking tour down under, as well as touring with US pop icons Backstreet Boys and NKOTB.

Adding to an already incredible 2012, Johnny also appeared as a serious contender on the Dancing With The Stars TV series, further solidifying his reputation as a captivating performer, as well as being chosen as a Cleo Bachelor Of The Year.

A self-taught singer and musician since his early teens, Johnny has been working day and night since his successful debut on the X-Factor, throwing himself into the industry with equal parts hard-work, talent, dedication and focus.
ohnny arrived in Summer Bay as Chris Harrington in 2013 and was a regular on Home and Away until 2016. He has since appeared on various Channel 7 and 9 TV shows performing, co-hosting and being interviewed on The Morning Show, Today Show and Today Extra.
Johnny will star in Channel Nine's House of Bond late 2016 early 2017.