Not Kath and Kim
Travels From Melbourne, VIC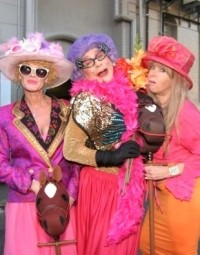 Topics
Comedy
Corporate Entertainment
Entertainment
Roving
Not Kath and Kim - Look at Moi!
Let these foxy morons make your event the talk of the town with their hilarious antics, audience interaction and song and dance routines. Comedy entertainment, MC, celebrity mingling, event icebreakers, stand up shows and comedy roasts.
Clients include: Toyota, Conrad Jupiters, RAQ, IGA, Mincom, Royal Australian Institute of Architects
Trolley Dollys
The only way to fly is with DIVA Airlines. The Trolley Dolly will make your flight to Greece comfortable and entertaining. Fasten your seatbelts for a flight to remember. We will meet and greet you and accompany you to your in-flight seat. Be prepared for some turbulence and the unexpected. All in all a fun adventure in the air with the Trolley Dolly. Every Trolley Dolly is a friend—kind, alert, understanding. Trolley Dollys are chosen for competence, character and charm and are thoroughly trained in the execution of their specialised work ...you will appreciate their unfailing courtesy (sometimes). Reading or writing matter, drinks, food , entertainment and comedy are yours if you are lucky. Expect the unexpected so fasten your seatbelts and sit back and enjoy your flight to Greece.
Other character acts include Always Fabulous (with Patsy and Eddie), Julia Kill- Billard, The Wog Chicks and Lawn Bowls.