Digital Content Trends 2019 Posted on November 29, 2018 in Workplace Training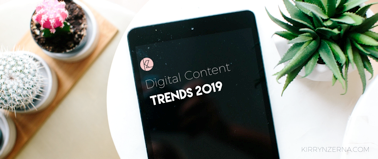 What are the Digital Content Trends you need to know in 2019? There's much discussion on the regular suspects – Artificial Intelligence, Chatbots, Voice Assist and Augmented Reality. While they are on the horizon, there are some digital content trends that are deceptively simple, yet cunningly effective to deliver social success. What I've found from speaking and connecting with over 1,300 businesses this year is that 2019 is less about technology and more about narrative. Here's my contribution of content trends to watch for 2019.
Does your organisation require expertise and training on Digital Storytelling [Masterclass] and The Social Business?
Kirryn's Digital Storytelling Masterclass, and keynote topic [The Social Business], provide the ultimate solution for organisations looking to craft and capture digital stories. Most importantly Kirryn shows clients how to apply them to your organisation's internal platforms, policies and workplaces.
The detail below provides an example of how Kirryn's digital expertise can aid the challenges, issues and problems that marketing managers currently face, in this digital age.
The client problem: They were large Govt departments who had staff dispersed across a region and wanted to empower them to capture their stories and share on Workplace (Facebook's workforce tool). Their language was "I want my staff who feel invisible to be visible"
How this helps: Kirryn will show you how to connect leaders and teams on purpose in the age of online influence.
Workshop: This is another option that is proving very popular, especially with advice on what equipment they need to be create and capture stories on their mobile phones.
If you would like to know more about Kirryn's conference and keynote presentations or training options, contact us for more information, call 1300 55 64 69.
What's unique about Kirryn is her ability to translate the challenges and opportunities of the power of social media in each business context. She draws on deep experience of working within corporate and public sector environments, and I with over 1,000 small businesses and entrepreneurs through state and federal funded programs. Read more.