Respect trumps Harmony
Posted on December 18, 2019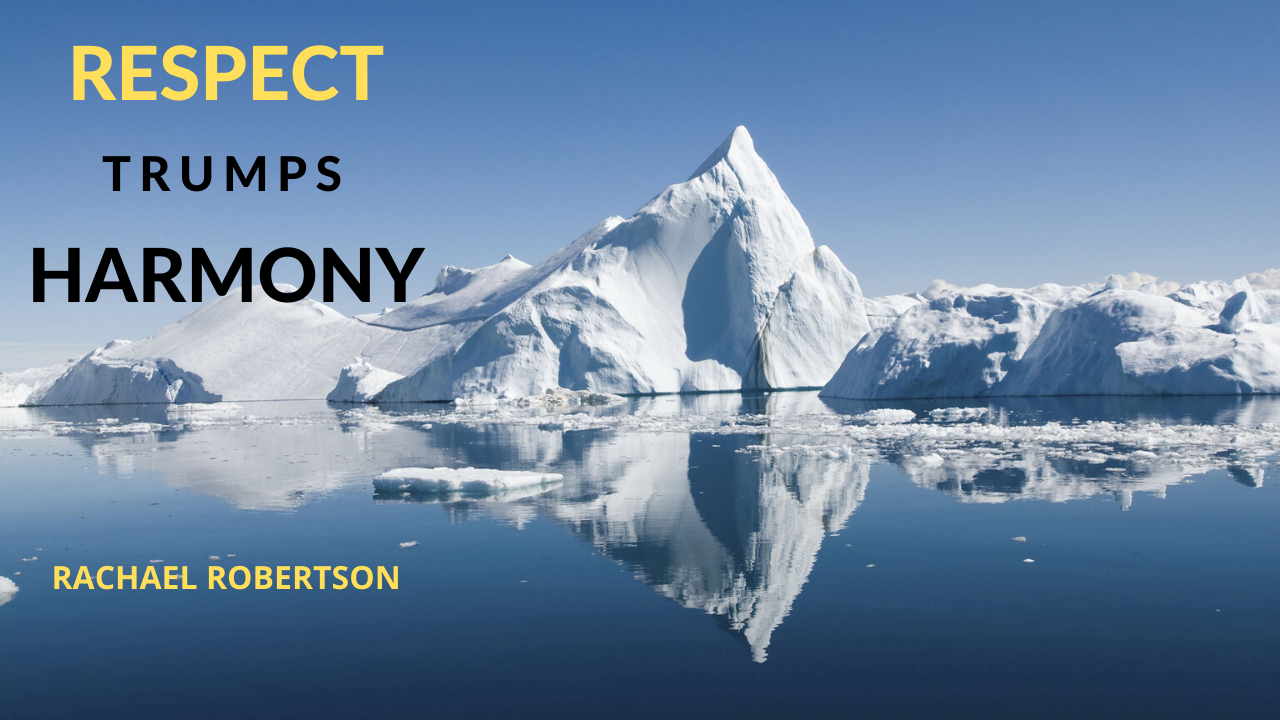 To celebrate International Women's Day, international keynote speaker and author, Rachael Robertson will release her new book, Respect trumps harmony.
"Respect trumps Harmony" presents the business case for building a resilient, innovative and high performing team built on a foundation of respect. It contains case studies and stories, and importantly, for the first time we have quantified the value, in both financial terms and team morale, of implementing No Triangles (the practice of direct conversations).
In 2005, I was chosen to lead an expedition to Davis Station, Antarctica. I was the second woman to lead the station, and one of the youngest ever leaders.
Like most jobs, I was presented with a group of people I had never met. Yet somehow I had to turn a group of random and diverse individuals into a high-performing team – because in Antarctica our lives depend on our teamwork. So, I set about developing a culture that would allow us to speak up, speak out, raise issues, deal with them and move on.
I started presenting what I had learned and the tools that I used during the expedition, at conferences and events. I now present internationally at over 100 events a year, all around the world. And while the content has been refined, and it changes according to what I believe are the current hot topics, the fundamental tools I used remain the same.
It intrigued me that across the 1500 teams I had worked with – corporate teams, public sector, not-for-profit, schools, volunteer groups – the challenges were the same.
We all agree that diversity is great, and the evidence is unequivocal that it has an impact on the bottom line. But as our teams get more and more diverse we won't always see eye-to-eye, we won't always agree on things. So how do we create a culture where that's OK? How do we encourage debate and robust discussion? How do we address issues directly and professionally?
To research this book, we surveyed almost 200 teams who had implemented these tools already, and conducted follow-up interviews to gather further insights. I wanted to know what worked for them? What didn't? and What changed as a result of implementing the tools?
The 3 tools are:
1) No Triangles – a tool to stop gossip, improve accountability and quality of feedback, and drive innovation
2) Bacon Wars – a gentle circuit breaker for calling out dysfunctional behaviour
3) Lead without a title – how to develop personal leadership in your team, so that responsibility and initiative is shared.
These tools are the 3 pillars that hold up the respect trumps harmony culture.
As the results show, implementing these tools has an immediate and positive impact on teams. Of the 200 teams surveyed 100% said the tools improved morale, 89% of respondents said a culture of No Triangles had a significant impact on productivity freeing up to 1 hour a day. Further, 100% of respondents said the tools made their teams more creative and innovative.
When a team strives for only harmony 3 things happen: poor behaviour continues, innovation is stifled and people turn a blind eye to safety and risk concerns.
We don't all have to love each other, in fact we don't even have to like each other, but we do need to treat each other with respect. Because respect trumps harmony, every time.