The ultimate book of influence Posted on November 29, 2018 in Corporate Training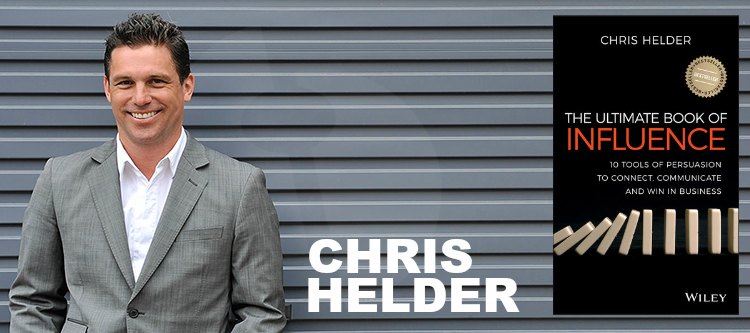 Master the power of influence
For those in the business of selling a product or an idea, the ability to influence and persuade others is one of the most valuable skills you can have. Given that we are now living in an age where digital communication often compromises our powers of persuasion, our need to engage in effective face to face communication has never been more important.
Chris Helder's keynote presentation called The Power of Influence, is essentially for business leaders, managers and sales managers. The Power of Influence can be a potent advantage. The ability to persuade others based on what you know about them, is the first step to convincing someone to buy your product, or even to buy into your business vision.
He is an expert in communication, and is one of the countries most successful speakers on influence. To learn more about Chris' keynote presentations, topics and profile click here.
Chris has also written a book on this topic where he shares 10 essential tools that enable you to influence others so you win the sale, or seal the deal. The tools show you how to read body language, uncover what's most important to a client, convince others to take action, understand the four essential types of people at your workplace, and much more.
The Ultimate Book of Influence gives you an insight into how to choose the right kind of communication technique for any situation. So, when you speak, you know people are listening.
Before you can truly influence people, you need to learn how to communicate effectively. This is what Chris Helder translates into his presentations. If you would like to know more about Chris Helder's keynotes or corporate training options, contact us for more information, call 1300 55 64 69.
Book Give Away!
We are giving away a copy of Chris's book The Ultimate Book of Influence, in our November newsletter! Don't miss out on future give prizes and books away. Click here to subscribe to our newsletter!

ABOUT CHRIS HELDER | web profile
Chris Helder is a business communication genius and master storyteller whose presentations have radically transformed how thousands of people worldwide communicate with clients, customers, colleagues, staff and teams. He has been a professional speaker for 16 years and has done over 2,000 presentations around the world. Read more.

Are you looking to create an amazing impact at your next conference? Contact the team at Great Expectation.