What's your legacy? Posted on September 26, 2018 in Leadership Development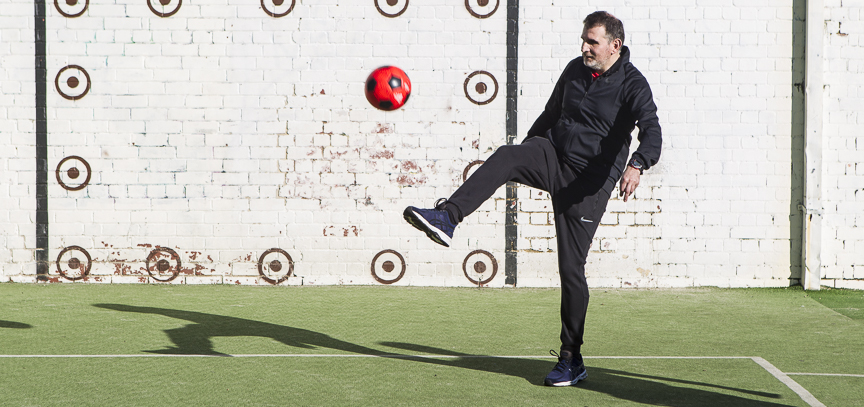 George Halkias is a well-respected community figure who has supported vulnerable Australians for over 20 years and is best known for the development of the Big Issue Street Soccer Program which uses soccer to engage and develop homeless and marginalized people.
In this role he has coached and coordinated Australian teams at 8 Homeless World Cup events including: Edinburgh 2005, Cape Town 2006, Copenhagen 2007, Melbourne 2008, Milan 2009, Paris 2011 and Poland 2013 and Glasgow in 2016.
He was instrumental in successfully bidding for and staging the 2008 Melbourne Homeless World Cup and his role included sourcing corporate sponsorship and acting as the public face of the event.
2008 Homeless World Cup
In December 2018, it will be ten years since Melbourne hosted the Homeless World Cup, an event that is dear to George's heart.
The 2008 event brought 500 players from across the world to Melbourne to represent their country, shine a light on homelessness and demonstrate what people can be achieved when they are given an opportunity to overcome adversity.
The legacy of this event and a four year pilot of the street program (that occurred prior) is the Nationwide Community Street Soccer Program that continues to support thousands of homeless and disadvantaged people across the country.
What's your legacy?
This is the topic of George's latest keynote presentation, and during this session, George reflects proudly on the work that went into the event and indeed program over fourteen years with much satisfaction and pride. Additionally, through his own professional motivational presentations, as well as coaching and mentoring, George likes to think the ensuing legacy, will be more educated, motivated, compassionate and inspired leaders, and community members.
Through his leadership presentations the questions George now asks of leaders in all settings, is just what is your legacy? How is your leadership impacting your organisation and your company? Even your community? What impact are you having on your customers, your staff and the people you lead? How can you as a leader invest in others and leave a positive and lasting legacy? And finally, how can this approach motivate and help you refine your leadership style and goals?
If you would like to know more about George Halkias and his keynote presentation What's Your Legacy? click here to submit your enquiry or contact us directly on 1300 55 64 69.
ABOUT GEORGE HALKIAS | web profile
George Halkias is a well-respected community figure who has supported vulnerable Australians for over 20 years.
With post graduate qualifications in psychology, his experience includes managing a state-wide support service for victims of violent crime and training police graduates in the area of victim rights and support. He is a sessional teacher - youth work at Victoria University. Read more