Why productivity is decreasing in our multi-tasking environments Posted on October 4, 2018 in Business Speakers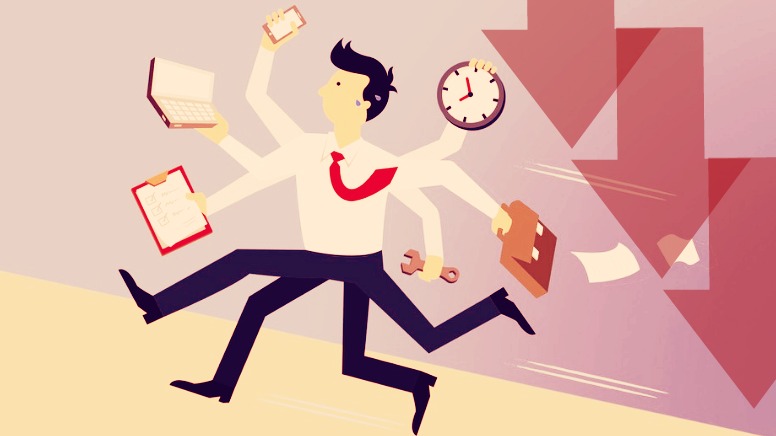 How long is it since you looked at your email, phone message, text or LinkedIn/Face book pages? Ten minutes, half an hour - how many times in a day do you check in? Really?
Research shows constant use of technological devices is negatively affecting our attention spans; our communication skills are suffering by the over-use of email/text/blogs/social media resulting in less face to face communication. Therefore, our ability to think creatively and intuitively is decreasing daily.
Most people complain of feeling "time poor". Technological advances and 24/7 connectivity have over taken our lives resulting in a continual feeling of being under pressure, never getting on top of our tasks and not genuinely connecting with others in a meaningful way. Is it true?
Productivity in perspective
The reality is, our brains are not equipped for multi-tasking as our short-term memory can only store between three to five items at any one time. The brain is hard-wired to create patterns and new neural pathways and can only do so, by repetition. It is possible that we are changing our brains so significantly, constantly taking on so many different tasks that our short-term memory suffers, and long-term memory does not have an opportunity to encode the new information for recall at a later time. If recall is not possible, then information and new learning is never available to you. The realisation that we are achieving less from increasing use of digital connectivity may be unwelcome news, especially when you are striving to become more productive.
Training your brain productively
The good news is there is a powerful alternative. There are proven ways to improve your performance and it is not only having a positive mindset. It is by training your brain to become more productive to access different levels of brainwave patterns, allowing creativity and intuitive thinking to emerge.
It is very easy to achieve this, and the first step is to slow down, focusing on one task at a time. When we multi-task, we change our physiology, creating a stress response - the 'fight or flight' mechanism which was your body's response to danger, providing you with the extra speed and energy to escape or to stand up and confront your attacker. In modern times, the tigers appear in different guises; such as running late for work, a traffic snarl, a deadline for a task, a dangerous driver creating a near accident and so on.
A breakthrough solution
In a world where true value exists in the knowledge that we bring to our professional and personal lives, it is time for each of us to change from our frenzied pace, by focusing on one task at a time, bringing full attention and awareness whilst being open to creativity and breakthrough ideas, lowering our stress levels and becoming more productive in all aspects of our lives.
If you would like to know more about Jane Mara and her keynote presentations click here to submit your enquiry, or contact us directly on 1300 55 64 69.
Jane is an author, speaker, researcher, management trainer and executive coach applying the power of personal mindset to create success for organisations and individuals. She has strong business experience as a management consultant and is highly regarded for dissemination of complex scientific knowledge into practical applications for business. Read more.