BOOTCAMP Stand Out on Social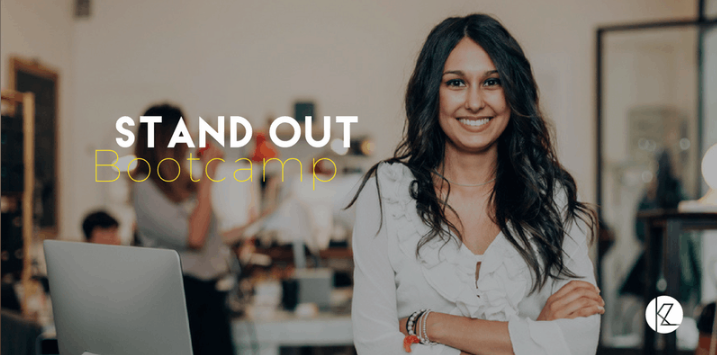 Do you want to build your online reputation and stand out on social?
We welcome you to get set for 2019 with a focused program to help you plan, set up and create a remarkable digital brand that will engage your clients and grow your business in the year ahead.
Stand Out on Social Bootcamp runs over 4 weeks, proven to get results.
NEXT BOOTCAMP
Sunday, 18 November 2018
For 4 weeks
Requires 1 – 3 hours per week
Special Discount – $275
Are you ready to build your profile?
Social media is not the only strategy to grow your professional profile and position you as an expert, and yet it proves to be an affordable and accessible way to get the attention you deserve. It helps you to meaningfully connect with your current, and future clients, in platforms and technologies that today's consumers are using.
This program is perfect for:
Ambitious small business owners

Business leaders who want to stand out

Coaches, consultants or experts in their fields
How Bootcamp works
Join a Cohort of Bootcampers who complete the program at the same pace; keeping you focused and on track.

Receive weekly emails with video tutorials and tasks to complete in the comfort of your home/office.

Be supported all the way with Group or 1:1 mentoring, Facebook Group discussion, Online Toolbox and Q&A support.
What you can expect to learn:
Get up to speed on what "social media" is and the potential it holds to build your professional profile

Clarity about how to position your unique brand and its personality

How to demonstrate credibility through a personalised content framework

A Social Media Roadmap that will create opportunity for engagement on targeted social platforms (especially LinkedIn and Instagram).

How to identify and serve your audience, and the power of advertising.
Have you noticed
The individuals and businesses that stand out online, have a unique brand "personality." They have a distinctive approach and style that makes them memorable.
The content that they create and share describes an overall narrative about who they are and what they support. It positions them as an authority on a topic, builds credibility with their audience and establishes their brand in the mind of their future clients.
Social can seem overwhelming and a time sucker. Social systems that are well set up will save time and stress, and make the efforts sustainable.
Here's how it works
Week 1 – Who you are (Personality)
Week 2 – What you say (Content)
Week 3 – How you say it (Process and plan)
Week 4 – Who you say it to (Audience identification and approach)
The content each week will be released in stages to help you work through it sequentially.
Learn – This is the learning aspect of the course. It will include a video which goes through each concept (time required – 5-10 minutes)
Action – There will be 1 or 2 focused activities to draw out information that you'll use in your social media efforts. This section is a must-do each week. (time required 1 – 2 hour depending on your preference).
Apply – Each Wednesday you will receive additional tasks and tools to help you implement the work. (Time required 1-2 hour depending on your preference).
Checklist – Once completed you'll check off each task and give some feedback on how you found it.
By the end of the program you will get:
Clarity on your branding

and how to uniquely position yourself as the go-to expert in your field, and beyond.

A tailored content plan

designed specifically for your brand that will grab attention and complete the narrative.

A system to guide

what to post each week and how to make it sustainable – what to scan, store and schedule.

Your next 100 followers

and a guide on how to grow your audience and attract leads through social media.

Clear instruction

on what to automate and how to outsource aspects of your social media management.

Online support

and ideas from other businesses just like yours.
Did you know? You can complete the course with your Virtual Assistant? You do the learning and use support to do the work with guides available for your VA.
"I am so glad I did this bootcamp. I've learnt so much in such a short period of time. The course was delivered through highly engaging short videos and action points that I was easily able to fit into my busy work schedule. As a result, and for the first time since starting my business, I have a consistent social media presence across all channels which is managed with just 20 minutes a week. Kirryn was very helpful and highly responsive to any questions I had. Highly recommend!"
Alessandra Edwards, Elite performance expert
To register go to the top of this page!