Office Professionals Breakfast
GUEST SPEAKER - Zelda la Grange
(Nelson Mandela's Presidential Aide)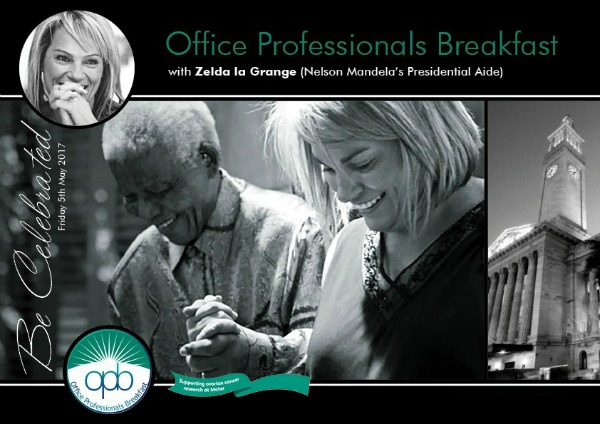 Join a community that continues to support, network and celebrate the International Day of Office Professionals. Now in it's third year, OPB 2017 is a highly anticipated event. EAs, PAs and office support staff are invited to join the celebration - this is a breakfast event 'not to be missed!'
There are countless prizes to be won at the breakfast, and everyone attending receives a sensational gift bag. As mentioned, we have a special guest speaker this year Zelda la Grange Nelson Mandela's Presidential Aide, previous speakers include Miguel Maestre and Chrissie Swan.
Did you know that OPB is also great event for CEO's and Managers wishing to publicly recognise and reward their Office Professional/support personnel? It's an ideal opportunity for managers to show their thanks and appreciation for their highly valued support team. Book a table today and say thank you to the team!
Tickets are available now on the OPB website!


OPB EVENT DETAILS
Date: Friday, 5th May 2017
Time: 6.30AM for a 7.00AM start [to 9.00AM]
Venue: Brisbane City Hall, 64 Adelaide Street, Brisbane
Tickets: $130 + GST or Table of Ten $1,200 + GST
Book Online: www.officeprofessionals.com.au
OPB TESTINONIALS
"Thanks for a brilliant event on Friday – I can't remember the last time I went to an event that was even close to the standard you presented. So good that another attendee, who I didn't know, stopped me in the carpark on the way out and commented that she also thought it was brilliant.
Well done to you, Marie and your fabulous team. I'm now a huge fan of Miguel's – he was perfect for the audience!"
Sancha Stephen, Executive Assistant to Commercial Director APAC
"Thank you so much, had an awesome time!!"
Catherine Anderson, Executive Business Support
"After attending my first OPB I would definitely like to register for next year, thank you again for organising such a wonderful event!"
Kerri Craig, Administration Officer, Live without Barriers