Your Best You with Bruce Sullivan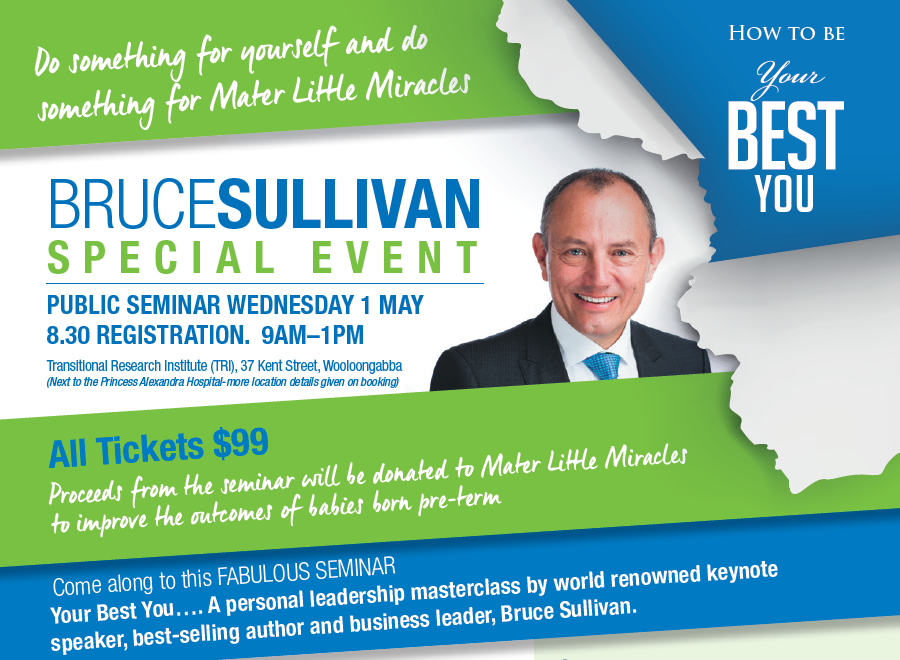 Your Best You…
A personal leadership masterclass by world renowned keynote speaker, best-selling author and business leader, Bruce Sullivan
Event Details
Date: Wednesday, 1st May 2019
Time: 9.00 am start, event concludes at 1.00 pm
Venue: Transitional Research Institute (TRI), 37 Kent Street, Woolloongabba
Tickets: $99.00
Book online: Click here
Proceeds from the seminar will be donated to Mater Little Miracles
How long has it been since you have seen your best you? Do you even remember your best you? You know, the one that showed up when you went on your first date or that person you were at the job interview. Do you even remember how amazing your best you can be?
Perhaps you are busy juggling a job(s) that used to be great but no longer provides you with happiness. Perhaps your relationships are going from fantastic to okay. You never seem to have any free time for you, your family or your health, and your life is just not great right now.
Life is demanding. We are all now expected to do 'more with less'. Enthusiasm can quickly turn to Cynicism (and as a result poor health and poor relationships) as you endure the day after day of constant change and the increasing expectations from ALL areas of work and life. These constant pressures can take their toll even on the most positive and resilient of individuals.
So how do we balance all of the demands on our time and our energy...particularly when so much is demanded from us everyday? How do we in the most practical of ways reclaim and focus our energy to ensure that we get what we truly want out of our profession and our life? How do we overcome the obstacles to genuine effectiveness that we might unintendedly create through using the wrong story? How do we instead improve our physical and mental health and focus our own individual input into our teams and our life to ensure an effective outcome?
Be prepared to laugh and learn as Bruce Sullivan draws on over 30 years of corporate and community experience in this discipline to create an informative, challenging and highly entertaining presentation that will provide proven, practical and easy to use strategies to immediately build resilience, decrease your stress, reclaim your energy and keep yourself focused and energised to do what matters most!
Learn More about this public seminar with Bruce Sullivan: Click here

Proceeds from the seminar will be donated to Mater Little Miracles