It's Just Too Hard Posted on June 14, 2019 in Mental Health Speakers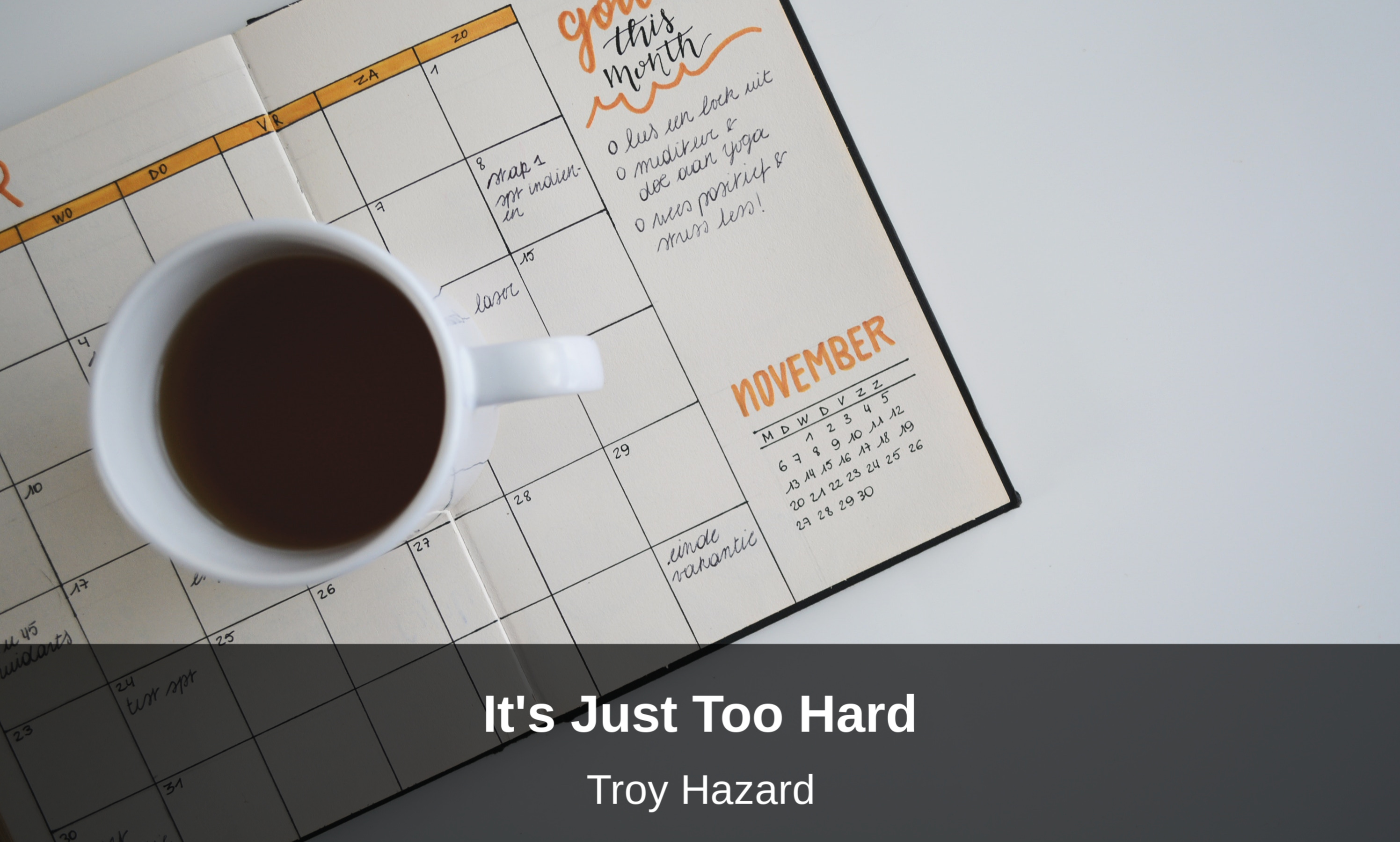 By business strategy keynote speaker Troy Hazard.
It's about this time of the year that you can feel the half way mark approach.
It's a time of reflection, a time of anxiety, and, for some, a time when we start to fear we are not going to get the things done this year that we would have liked to…. THIS is the moment in time when our New Years resolutions and goals go out the window as - it's just too hard.
Here are 4 things to help you power into the back end of the year, and not burn out before you get there.
Don't set goals - set milestones
The goal is the destination – you need to remind yourself, you are making progress. Set yourself some shorter-term targets along the way to your goal, and reward yourself for hitting those targets.
Don't make a 'to do' list – make a 'can do' list
What will you get done TODAY. List the 2, 3 or maybe even 5 things you'll have done by end of day NO MATTER WHAT – so you feel like you've ticked some things off your list.
'Build' your day – everyday
Take a moment at the beginning of the day to visualize your day, and to put the building blocks of progress in place. Compartmentalize activities and thoughts so it's easier for you to get through them, and not get distracted by what's right in front of you.
Look introspectively
As the year rolls on you find yourself with a lot of 'voices' around you, some of them talking you into a bad day! When the external 'noise' feels like its bringing you down, look introspectively for the energy – there's more there, if you don't let others suck it out of you!
Summer break is a great way to re-set the back end of the year. So work on a plan to introduce new habits and behaviors early in your break. Then relax, recharge, and race into the back end of 2019.


Troy Hazard is a keynote speaker on business strategy, growth and change. He is an Amazon business books best selling author and television host. He has owned 13 companies over 29 years, and has consulted to 300+ companies in 16 countries. If you'd like to know more about Troy click HERE or call us on 1300 55 64 69