Master your mood and you master your life Posted on October 12, 2016 in Mental Health
I like to refer to Graeme Cowan as the 'moodmaster'. He is also one of Australia's leading speakers and authors in the area of mental health in the workplace. Graeme is a highly sought-out expert on the causes of workplace stress, and now works with individuals, teams and organisations to manage mental health. He has worked with elite level athletes, the armed forces and business professionals of all levels.
Opinions and strategies born out of one's personal experience is highly authentic and I've found it creates a large and lasting impact on audiences across all industries.
I've included Graeme Cowan's article below, it is a 5 minute read that can change your mood immediately. You might want to skim it daily for a week or more to experience the power of consistency.
Many New Year resolutions are made at this time of year, many are likely to be forgotten a week later. Start small, be consistent and keep it simple.
Master your mood with these 3 daily questions
By Graeme Cowan
"If you master your mood you master your life."
Between 2000-2005 I went through the worst depression my psychiatrist had ever treated. When I saw him he would always ask me to rate my mood from 0-10, where 0 was where you had given up hope of getting better, and at 10 you were thriving physically, mentally, socially and spiritually.
One day I asked him why he did this and he replied that it helped him to understand how I was feeling, and then he said "one day you should learn how to master your mood".
When I disputed this by asking "don't I have an illness?", he said "You will always have a predisposition to depression, but I believe that ultimately you can learn how to manage your mood, and maybe even
master it."
Over the last 8 years I have researched extensively about practical ways we can manage our mood.
When it comes to wanting to improve our mood the need for a simple but useful tool is critical. I am very grateful to now be spending 80% of my time in the Green Zone.
Enter the "moodometer" – a simple sliding scale that compels you to think about your mood and act where appropriate.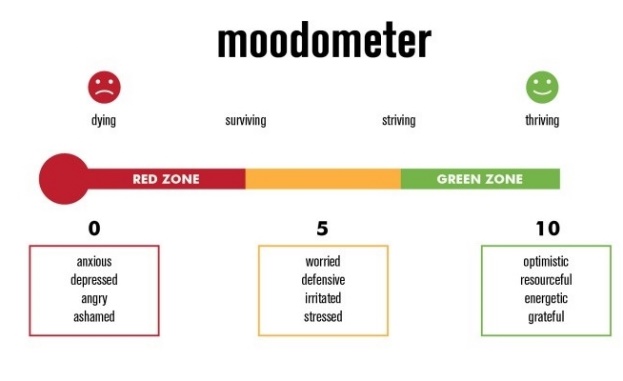 Consider these important life events;
Discussing an important issue with your partner/spouse
Giving your child advice
Making an important life decision
Discussing a disagreement with a friend
Discussing an important project with your boss


Where on the moodometer are you best equipped to enhance the outcome of these events?
I think we all know intuitively that when we are in a better mood, life is better. We are better equipped to face important issues. We are better partners, better parents, better friends, better employees. Life is better in the Green Zone.
Research published in Harvard Business Review confirms our intuition, and shows that those in the Green Zone have:
31% higher productivity
37% higher sales
300% greater creativity
Going for the Green Zone
When we are in the Green Zone we are more optimistic, resourceful, energetic and grateful.
Research by Sonja Lyubomirsky in her book The How of Happiness shows that our mood/well-being is determined by 3 things:
Genetics – which contribute 50%
Circumstances – 10%
Intentional actions – 40%
It is liberating to know that 40% of our mood is determined by what we choose
to do every day.
After the research, interviews, coaching and workshops I conduct, I am convinced that to be consistently in the Green Zone we must be able to articulate and live our:
Purpose – this is our direction and clearly describes the benefits we deliver to others;
Energizers – this is the fuel that allows us implement our purpose, and;
Positive strengths – these are our tools that allow us to work most effectively;
If your number 1 priority is to Go For The Green Zone, these are your 3 daily questions.
Am I living true to my purpose?
One of the best ways I found to help people define their purpose is to think of their proudest career achievement and ask yourself:
What was I doing?
Who was I serving?
How did those that I was serving benefit by what I was doing?
My purpose is "To show people how to build their resilience, mood, and performance, by being their true self."
Were the things I did today true to that purpose? Did I learn how to do this better each day? Am I combining theory and practice? Who can I learn from? How can I improve my performance?
If at the end of the day I can't say that I was true to my purpose, I resolve to change this tomorrow.
Another clue to whether you are living your purpose is asking:
Did I like what I did today? Did I like how I did it?
Am I replenishing my energy?
Energy comes from 3 main sources.
Physical
Emotional
Career and community
Physical energy comes through exercise, eating well and resting well. Do I plan to exercise and rest sometime today?
Emotional energy comes from having time with people that are good for me. Am I seeing people I like today? If not, tomorrow? You should never go more than two days without seeing people that are good for you.
Career and community energy comes from making a difference in the world. I think it is telling that a Gallup survey of 95 year old men revealed that their average age of retirement was 85 years. Work is good for us – providing it is the right work.
Research also shows that those who volunteer for the greater good are healthier, live longer and are more engaged in their work. Am I making a contribution?
Am I using my top strengths?
The Gallup StrengthsFinder allows you to find out your top 5 strengths (out of a possible 34). Their research shows that people that use their top 5 strengths each day are 600% more likely to be engaged in their work, and 300% more likely to report high life satisfaction, than those that don't. We are much better off building our strengths than trying to be perfect at everything. Sure we have to manage our weaknesses, but we should do this by working with people that complement our strengths.
When considering an important goal – do I ask myself how I can use my top 5 strengths to reach it? Who has my top strengths that I admire and can learn from? Is there a book, video, or podcast I can review to further develop a strength?
I find if I reflect and act on these questions each day it consistently keeps me in the Green Zone, and so it will for you.
If you master your mood you master your life.