Schools to increase Mental Health Awareness
Posted on July 18, 2017
Do you think we are doing enough to integrate mental health?
Get up to speed on the latest, hard hitting facts about mental health in schools. Watch a short clip of Paul Spinks speak about the current state of mental health in our schools with this group of education professionals. This vital message needs to be heard and shared in our schools and workplaces.
Consider the statistics
The leading cause of death in this country from ages 15 to 44 is suicide
Consider the statistics:
The leading cause of death in this country from ages 15 to 44 is suicide
Facebook and Instagram are now heavily linked to low self-esteem, poor body image, depression and even schizophrenia
Pressure on students in exams to succeed in academia, is considered in the top ten causes of why somebody may choose to take their life
Australia ranks second only to Iceland on a world scale of the most antidepressants prescribed per capita
Most of Paul Spinks' conversations with students and teachers have gaping holes in knowledge of all the above.
Paul questions if we should consider life skills and education programs in our schools that cut to the absolute core of these issues!
Perhaps you should be the judge
To start the conversation around Mental Health at your school, join us for "The WAKE UP Call", a hard-hitting and very personal session that will cover a range of mental health issues, presented by Advanced Care Paramedic and Councillor - Paul Spinks.
After 15 years of working in the Ambulance Service, Paul shares experiences of what he has learnt when standing in the lounge room at 2am in the morning, after somebody in the family has rung 000.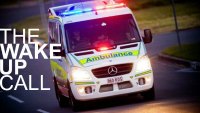 The WAKE UP Call SYDNEY | 1 AUGUST
7.00am to 9.00am
Rydges World Square, 389 Pitt Street Sydney | google maps
$85 + GST per person | BOOK ONLINE
TESTIMONIALS
"I can't thank you enough for the outstanding talk yesterday which has undoubtedly had a profound impact on attendees. We are receiving constant feedback about how amazing the launch was and numerous requests for the recording (already!) There's no doubt you were the perfect choice to assist us change the perception of our staff wellbeing program from the 'nice to have/optional extra' to something that's fundamentally essential to our core business – which is delivering the best quality education outcomes to Queensland children and families."
DEPARTMENT OF EDUCATION & TRAINING